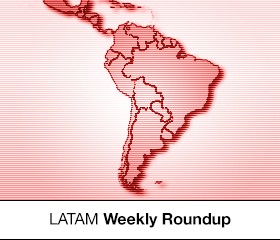 This week in the LATAM Roundup: rumours about the latest Omnicom buyout; Grupo ABC for BRL$1bn (£177 million); Data about small digital ad markets in the region; Global Data Bank debuts in Brazil promising a data platform that can cost up to a third of other third-party data providers.
Omnicom to buy Grupo ABC
According to sources related to Omnicom, the company has set a deal to buy Grupo ABC, Brazilian holding led by local leaders Nizan Guanaes and Guga Valente. The news was reported by Reuters last Saturday (15 Nov) and has been spread in local media through the weekend. No official confirmation was announced until Sunday night.
The source said the deal is closed in one billion reais (£177 million), and the leaders should hold their positions for at least five years — then, the value of the buyout contract can still have adjustments to follow the company's performance in the period.
Grupo ABC is the biggest advertising company in Brazil, headquartered in Sao Paulo. It has branches of several approaches, including digital media.
Beyond Mexico & Brazil: Peru and Chile Digital Growth
When Latin America is put under the spotlight of the digital ad market in general, Mexico and Brazil are highlighted. Together, they represent the vast majority of revenue in the region — Brazil alone represents 50%.
Yet, other countries are seeing digital ad spend grow. Peru is expected to increase digital investments by 25% in 2015, reaching USD$81.8m, says eMarketer. Even being a small market, in 2019 Peru digital ad market is expected to reach US$153m.
Chile, on the other hand, has the highest ratio of citizens with internet access (70.5%) in Latin America. Even though it sounds promising, web investments are growing — but not so fast: eMarketer forecasts a 15% growth in 2015, reaching US$164.5m in revenue.
Global Data Bank debuts in Brazil
The American Global Data Bank (GDB) announced the start of Brazilian operations. The goal is to operate as a global data set to optimise results in ad campaigns and reduce drastically the cost for local companies, using media automation.
In Brazil, the company will keep their global revenue model of not charging clients who plug their platforms in GDB's technology, keeping a percentage of the media transactions through the data bank. According to a press release, it costs between a third and one fifth of the average price for third-party data providers.
"Each marketer, agency, and DSP creates their account in our bank. This secure account allows them to bring up data from several sources, online or offline ones. With that, our customers can build their own segmentation and clusters, activating them programmatically in real time using any DSP, such as Yahoo (YAM+), AOL, Melt, MediaMath, RocketFuel, and Google", said John de Tar, founder, Global Data Bank.
Last month, during a beta test in the country, GDB had more than 11 billion impressions. It also claims to have offline and online data of 180 million people in the country.
Marcelo Pincherle will lead the company in the country as business director. His previous career experience was as a data strategy manager for Serasa Experian and marketing CRM analyst for Renault Brazil.
*Para ver a matéria publicada pelo ExchangeWire, clique aqui.