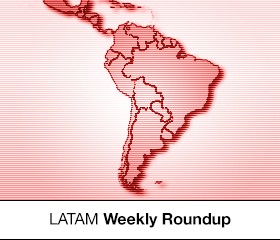 In this week's ExchangeWire Weekly LATAM Roundup: AOL ONE Video platform running in Brazil through a partnership with a local data network; Rocket Fuel's adapting to local practices to enhance programmatic transparency and the growing Instagram market in the region.
AOL & ROIx: programmatic video partnership
AOL Platforms has announced a partnership to debut ONE Video in Brazil, with the Brasil Post publisher – a localised version of the Huffington Post – pairing with ROIx (a Brazilian first-party data network) to accommodate the launch.
Phil Duffield, AOL International, head of programmatic demand, said: "Strong business relationships are essential in order to operate in Brazil and working with a local network of ROIx's caliber gives us a solid foothold in this growing market."
The partnership expands ROIx's programmatic offering to include video for the first time, with AOL Platforms now incorporating ROIx's extensive datasets into ONE by AOL's video offering.
ROIx's agency clients include: DM9; FCB Brazil; HAVAS; JWT; RGA; Y&R; as well as brand advertisers such as Chevrolet, CVC, Lenovo, Multiplus, TAM Airlines, Toyota, Samsung, Unilever and Vivo.
On the publisher side it has private marketplace agreements with: Yahoo; MSN; R7; IG; Terra; and Rubicon Project. Its largest stakeholder is Raphel Klein, whose family founded Casas Bahia, an empire in retail that appeals to popular social classes in the country.
Rocket Fuel adapts to local practices
Rocket Fuel aims to enhance its market entry in Brazil by reducing its operating margins, according to Edvaldo Acir, managing director, Rocket Fuel Brasil, who also revealed his company was attempting to engineer a publisher co-operative in LATAM's biggest market.
Acir this week claimed his company wanted to better adapt to Brazil practices in order to win over client spend in a piece published on his LinkedIn account, with the executive also making note of the peculiarities of the Brazilian market, which often represent a challenge for global companies willing to grab a share in the emerging programmatic market.
Among the changes he mentioned was decrease in the profit margin Rocket Fuel will charge clients in the region. The main objective is to contribute to increase the levels of transparency in the LATAM market, according to Acir.
This move has been made in the anticipation that it will encourage agencies and marketers to better understand programmatic media possibilities, including its use for branding campaigns.
In his post, he also he also revealed the company is talking to five Brazilian portals, (non-competitive among one another) to develop a publisher alliance mirroring the Pangea model; similar to other negotiations elsewhere, but have yet to actually take off in the region.
The piece is available in his LinkedIn profile page (in Portuguese).
Instagram goes LATAM
Instagram is bolstering its presence in LATAM, with Facebook-owned apps occupying the top-four most popular apps in the region, according to separate studies.
Recent comScore and IMS Group research shows that around half of smartphones and tablets owners in Latin America have the Instagram app on their devices, with the brand widely known among the mobile users in the region — only 6% had never heard of it. However, despite this, only 33% of surveyed users had never checked the app, even though they knew what it was.
Still, Facebook is by far dominant in the region. While more than eight-in-ten had visited Facebook in the past month, its app was on 89% of smartphones and tablets in the region. Only 4% of the total amount of users in the region had never opened it.
Still, Instagram was the third most popular app with Brazilian smartphone users, after WhatsApp and Facebook — more popular than Facebook Messenger app.
Meanwhile, according to an eMarketer study, 179 million people in Latin America, or roughly 49% of mobile phone users there, will use social media in their devices at least once a month this year. This represents a growth rate 39% of users since last year.
*Para ver a matéria publicada pela ExchangeWire, c
lique aqui
.